Hi Everyone,
Hope ye'r all doing alright this evening..
Plenty of releases on the shop floor anyway today if you want a bit of end of summer cheering up.
So we have the QUEENS OF THE STONE AGE record….Indies only LP and CDwith us… Still waiting on stock of the deluxe vinyl… Should be Monday I think… The new IRON AND WINE is with us, HAPPY ABANDON, PICTURE THIS, NADINE SHAH, WAR ON DRUGS… (sounds really good although maybe similar sounding to the last album.. If that's a bad thing? Early Springsteen undercurrent flowing through it a bit for me, again if that's a bad thing? We like it a lot anyway).. All of the above are new albums and we also have reissues by BOB DYLAN, UNDERWORLD and a live, acoustic album by CAGE THE ELEPHANT.
Video is also up:

Right so moving on to releases for the 1st of September, Sony have the new album by James Murphy / LCD SOUNDSYSTEM… 4th studio album by the New Yorker in case you thought t'was the fella living out the Lough by the pet shop… No 'tis not him….. First album in 7 years from LCD…
Sony also have new album by Irish band, but global stars I think it's fair to say,THE SCRIPT… 5th album from them lads I think… "Freedom Child" on CD, deluxe CD and LP.
Lastly Sony have some nice reissues (Sidetrack…. We get sent… As in record shop operators, owners, bluffers, assassins, boatmen…  Whatever you choose to call us… We get sent playlists by some of the record companies and while i'm working on this or something I would have it on in the background type of thing…. Well the new Kamasi Washington track stopped my train of thought completely and made me sit up and take notice… I'm far from a jazz head but I do like the sound of it…. Just said i'd share that with ye like).. Where was I?.. Yeah Sony have some nice reissues on Vinyl Record like Mr. Johnny Cash "Greatest hits" (another track far from the beaten one.. Did ye see the statement the Cash family sent out after the Charlottesville hate "rally" where one of the "nationalists" was seen wearing a Johnny Cash T-Shirt.. Worth poking it out for a read..) ELVIS "Moody Blue" 40th anniversary on blue vinyl, and SANTANA "Greatest Hits" on LP also from Sony..
THE ORCHARD have new albums by STARSAILOR and THE RAILS… If anyone is interested give us a shout on them.
PROPER have a new MARTIN SIMPSON album for the 1st of Sept…
I see the MOZ man announced a new album this week on his own label… A new label… Distribution done by BMG/WARNERS… The MOZ man don't hang around too long with his record labels… Whatever happens..!??! You know he has a house down in Cobh….HE's hardly ever there but reliably informed he still has it… Retirement home maybe…
Warner have reissues of the first two FLEET FOXES records on LP, as well as a new MOTORHEAD album… called "Under The Covers".. It's a covers album… Covers used before only on tribute albums, and I think 2 or 3 new tracks, well new covers and last studio recordings of Lemmy…
PIAS for the 1st of September have the new MOGWAI album as CD, indies only clear vinyl or 2LP plus 12" boxset thingy, PARADISE LOST have a new album on Nuclear Blast entitled "Medusa" and NICK CAVE / WARREN ELLIS have the score to the movie "Wind River" as well as a 3CD set by Epica.
Ok so cap and humility in hand to the BOWIE heads… All the slagging is just for the craic of it and the hope of some enjoyable banter….
Well lads the summer has been quite you know…
On the 29th of Sept the next Bowie Box Set will hit the shops… "A New Career In A New Town", or as some may call it "The Eno Years"… Sorry sorry look, sorry I can't help myself…. Covers the Berlin period, and includes my own personal favourite Bowie album "Low"… So most of you probably know the content but we will put it on the bottom of the newsletter anyway…
Ok so here's the sceal with us anyway for preorders… (The cap in hand bit)
LP SET Best Price is 235 Euro…. But you are entitled to one piece of Bowie merch… Either a T-Shirt, a Tote Bag, or a Slipmat… The Bob man will include images there in a bit of the merch..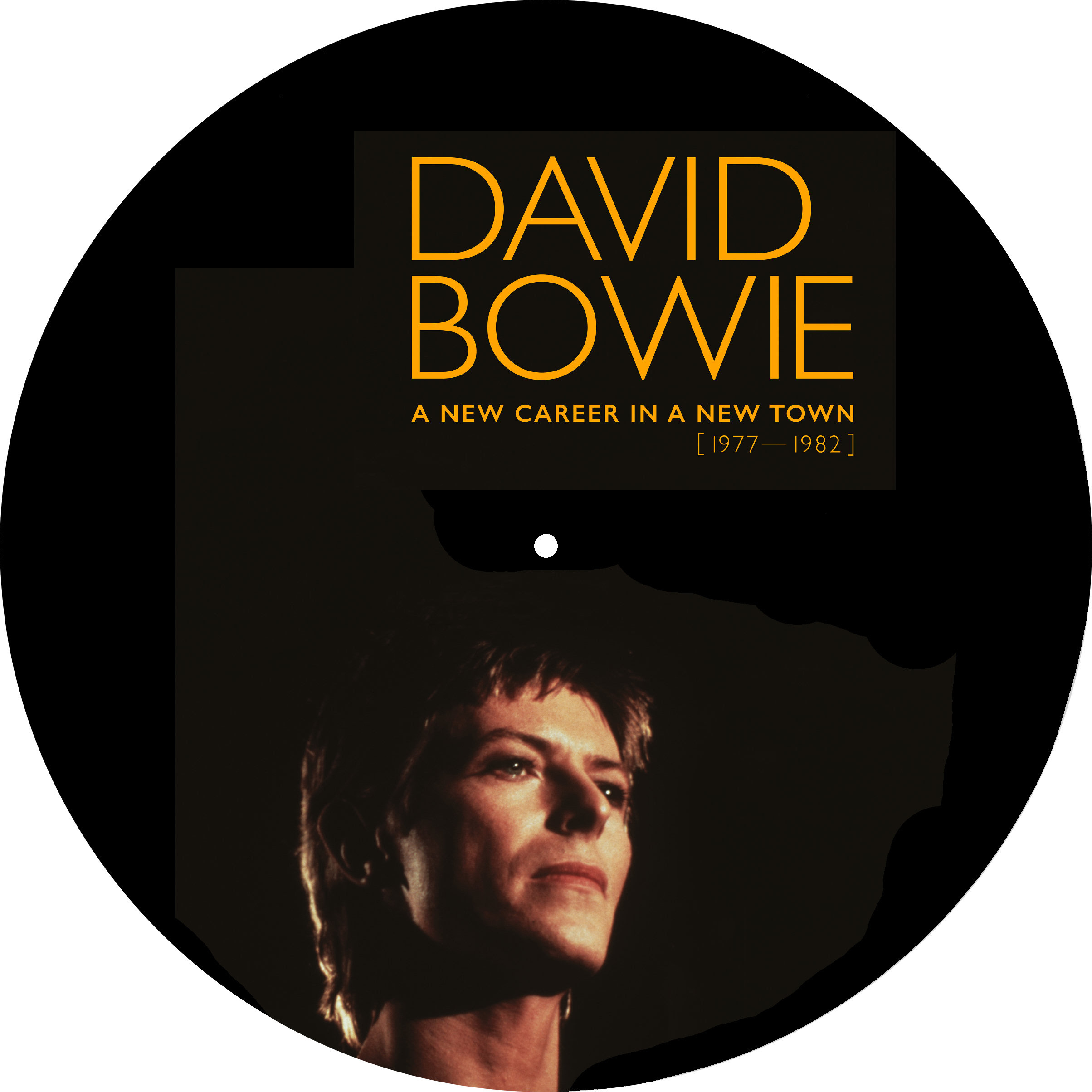 CD SET Best Price is 130 Euro…. Same as above as regards the merch… Definitely one item of your chosen merch..
Now the T-Shirts are a bit out of my control especially size wise but I will do my very best… Be mindful of maybe having a plan B if the size don't fit…. (And being sound about it in the unlikely event that plan A fails)… If someone wants to buy a set from us and not pushed about getting a tee, bag or mat… We will take a fiver off the quoted price above…
If I get extra merch I will have a draw amongst the pre-orderers so you may end up with two bits of merch…
If pre-ordering from us (your local, friendly shop us)  email us back ideally in the next 7 days… The sooner we have the t shirt sizes in, the more likely we will be to get the correct sizes…. Medium, Large and XL I believe are the sizes available, but there all in similar numbers re availability so you see where a problem may lie… Let's hope Bowie fans in the greater Douglas area are not all small sizes…
Pay it over time if anyone wants or get it tucked away for Santa or the better halves also if wanted…
I'm starting to waffle… Ye get the deal i hope?
Sin é … Let us know please… Be delighted to have yer money! Hold on a second there Rocco I hear ye say… We got the cap bit… Yeah, yeah loads of that… Where's the humility bit?.. I mulled here for a few seconds about using a famous line from the film "Jerry Maguire" before offering any Bowie humility.. I walked myself into this shite didn't I… Here we go :
Look Bowie was one of the most innovative, clever, charismatic, unique characters the world has ever seen, not to mention the arts and music world… His likes are fairly unlikely to be seen again in a musical sphere, and certainly even more unlikely to be surpassed…. His songs and music will live on forever across races, religions and generations…. A truly incredible artist and man…
Ah christ I should have went with the Jerry Maguire line… Not the, you had me at hello one… The other one..
Universal for the 1st of Sept have a new album by JAKE BUGG… His fourth now I think.. I like this kid and had high hopes for him at one point… Will be listening… CD only for now, LP in October.
Uni also have a THE VERVE Box Set of "Urban hymns"..  Loads of sidetracking tonight… But I managed the Golden Discs shop in Patrick St 'cos the manager was on Mat Leave when Virgin came to Cork in either Christmas '97 or '98.. I used get the bus back then as I didn't drive and I remember turning Singers Corner on the 4th of December to see a massive queue to get into a new record shop… Only 20 years ago… Massive queue… But that VERVE album was the biggie that Christmas… I also remember that… It's on 5CD/DVD or 6LP set…
Uni also have new ones by NEWTON FAULKNER and HUE AND CRY, as well as the absolutely gorgeous PORTISHEAD 'In New York With The Orchestra'… So so good that is… LP repress of it.
ROM have the new OMD record out for next Friday also…. CD/DVD or indies only yellow vinyl… Synth at its best.
Next in store coming up is on SATURDAY the 9TH of SEPT @ 1PM… Our Saturday sessions are back… So making their debut on the Music Zone.ie Towers emporium stage and launching their debut EP are really talented local lads ATLAS ZERO…
Have a listen to a tune from the EP here and check out our boy Mark hit those drums here also…
Mark is an ex-Music Zone employee who probably won't thank me for saying but his mammy dragged him in when we were opening Douglas Court March 2012 and either, one, i was totally goosed and needed someone to start asap or, two, they caught me at the perfect mood moment… (More likely 1 id say… Me in a perfect mood??).. But it was the first and will be the only time a mammy will get someone a job in the shop… Maybe twas the look of embarrassment on Mark's face that got him the job… Note to kids.. Go in yourself… Note to parents… Send them in themselves…
Anyway come in and support the boys and support the shop on sat the 9th of Sept @ 1PM if you're around..
If anyone is still with me..
Sin e for this week
Thanks for listening
Ray
musiczone.ie
——-
Hey guys,
Bobby here quickly with the contents of the Bowie Box. Email was long this week so could clip and cut out, but should be a 'continue reading' option below. If it doesn't clip, sorry that you have to listen on to my waffle. (My waffle is easy work tonight, copy and paste job from the rep!)
'The follow-up to the awarding winning and critically acclaimed DAVID BOWIE 'FIVE YEARS (1969 – 1973)' and DAVID BOWIE 'WHO CAN I BE NOW? (1974 – 1976)' will be released on 29th September and will contain a brand new remix of the 1979 album 'LODGER' by long time Bowie producer/collaborator Tony Visconti, in a 13LP Set'
Contains :
84 Page hardback book
Low (remastered) (1LP)
"Heroes" (remastered) (1LP)
"Heroes" E.P. (remastered) (12" Single)*
Stage (remastered) (2LP Yellow Vinyl) *
Stage (2017) (remastered)  (3LP)
Lodger (remastered) (1LP)
Lodger (Tony Visconti 2017 Mix) (1LP)*
Scary Monsters (And Super Creeps) (1LP)
Re:Call 3 (non-album singles, single versions and b-sides) (remastered) (2LP)*