Hey everyone,
How's the form?
Kind of normal service resumed this week.
First up is the new vinyl record release video, which has the big releases from the last couple of weeks, including local lads JOHN BLEK AND THE RATS and some big names such as JEFF BUCKLEY, JAMES, POLICIA and many more, check the video out below, if you want to see them all, a good bit in! :
Records released last Friday include BRIAN FALLON, RICHMOND FONTAINE, IGGY POP, PEARL JAM, JAMES, TOM PETTY, BRUCE SPRINGSTEEN.
Big response to last weeks note on the Record Shop Day, very varied selection this year…. Nothing huge but nice and varied… Maybe not as strong as last year, personally as a shop keeper I prefer album releases, always less of a graveyard after RSD with albums.. RSD can get a bad wrap at times and certainly there are some negative aspects to it… Pricing being one I suppose.. To be fair the 7" and 12" can be excessive.. I don't know why, it's unfair… Record companies could feel there is major re-sell value on a lot of the stuff but that's not a fair reason for inflated prices. Infact, that only fuels another negative for RSD and that is people who get involved for the wrong reasons, purely and simply to buy a record and flip it for twice it's value 3 hours later on Ebay… Parasites is the industry term for them.. But there are parasites in all games where product is limited and only increases in value… It's the way of the world as unfortunate as it is… Most who visit us are cool, no issues there, thank God.. I'd hate if the wrong hands got an only limited release to flip it on Ebay taking it away from a genuine fan.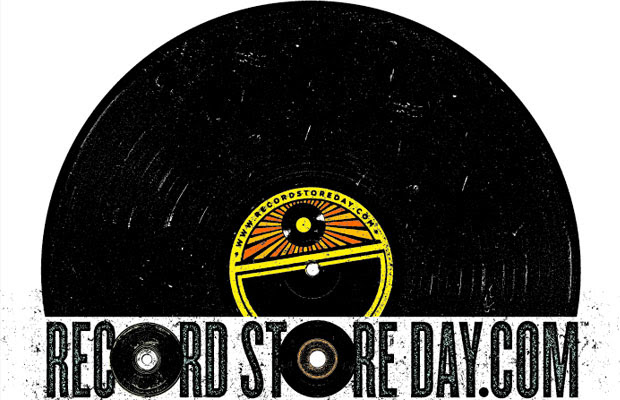 Another problem faced by us on RSD is the availablitiy of the produce… It's rare and limited by nature but one company this year decided not to support the Irish industry, that company being Music On Vinyl.. Here's the reason that I can't buy stock from them this year, in a'roundabout fashion from rep
'Hi Ray,
I'm afraid that a RSD order is not such a good idea after all because of the way it is organized:
We have to create a special sub account for each participating store; a special RSD account.
Then all RSD orders are collected and automatically entered in the system at once.
Until this is done it is still uncertain who will get what or how many.
When the stock has arrived and is divided between all the participating stores in chronological order,  then all the RSD shipments will be shipped out on the same day via priority mail.This is quite expensive but priority is the only option.
And on top of that our accounts department does not make an invoice for an amount below € 300,-
No matter how much I wanted to ship you these titles, all in all its probably not worth the hassle and it would be better to wait until after RSD to see what's still available then.
I did not know it would be such a tour du force to organize this otherwise I would have told you this much earlier.'
So, I apologise in advance to anyone hoping to get MOV RSD releases here, or in fact anywhere in the country for that matter.. I suppose my returning cribbing emails have yielded promises for next year…
All that said, RSD, is for us what it says on the tin.. It supports us as independent record shops.. And it does.
Last year it was as as good as any day Christmas week.. There was a lovely vibe in the shop all day long… People supported us even without buying any of the RSD stuff… It was humbling, the support, to be honest, from ye the customers and the musicians who played for us… Truly humbling. Musicians signed up to play already for this year include CRY MONSTER CRY, CROJAN and ANDERSON who plays a gig in Cyprus Avenue on Friday April 22 (tickets available now!), and is going to drive down from Dublin to us on the day to play a few tunes in the shop.. Top man… Fair play.. We don't mind if he turns into… Bleeding Bono (said in my Dublin accent). Anyway bottom line… It's a hugely important and special day for us here..
Right. On to releases for next week the 25th of March.. Merge via Cargo have a new BOB MOULDrecord out, limited coloured LP here!
Universal have the MOTORTOWN REVUE record Live In Paris, which includes all the Motown stars, the Supremes, Martha and the Vandellas, Stevie Wonder etc, all on a 3LP set.. Universal also some STATUS QUO CD expanded reissued versions of 'If You Can't Stand The Heat', 'On The Level', and 'What Ever You Want'. They also have an ERIC CLAPTON 4LP Live Album Collection, which includes Derek and the Dominos, Rainbow Concert, E.C. Was Here and Just One Night.. Also some nice new Bluenote Jazz vinyl reissues with classics from Count Bassie, Ella / Louis, Billie Holiday and Charlie 'Bird' Parker…
Warner probably have the biggest releases for the next Friday the 25th with the new JOE BONAMASSA album on CD / Deluxe CD and 2LP… The album is called 'Blues if Desperation', out via Provogue..ALL NEW TRACKS
Warner also has the BIRDY record on the same 3 formats, EVA CASSIDY 'Simply Eva' LP reissue, and a lost JEFF HEALEY album gets a release.
Sony have a bit out next Friday also, including a new WHITE DENIM record (Major Label Release), new AMON AMARTH album on CD and LP as well as a load of good vinyl record reissues, such as PEARL JAM's Vs and Vitalogy, as well as all of THE SCRIPTS albums.
Sin é for this week folks,
Check out VINYL RECORDS CORK for all comings and goings..
Thanks for listening,
Ray.