Hi Everyone,
hope all's well…
Here is what we got out for release today in the siopa…
New albums by FOO FIGHTERS, GARY NUMAN, ANGUS & JULIA STONE , PROPHETS OF RAGE, LUKAS NELSON, RICKY ROSS and ROSTAM as well as vinyl releases of BEYONCE's "Lemonade",  PRINCE " 4Ever" 4 LP box set and THE DOORS " 20 Singles Boxset"…. There probably are other bits and pieces we will stick them on the video in a while also which ye'll find as normal here
So on to releases for the 22nd of September.. Firstly from Universal is the new album by THE KILLERS on CD, deluxe CD and high street only limited gatefold pink vinyl…. Just to tell ye something easie enough to deduce… High street onlys refer to all record shops… Including the chains… But not to the big onliners… Indies only refers to the smaller guys or the smaller guys who really are a corporation!  Ha!… Anyway new KILLERS album… 5th album I think?…
Universal also have a new VAN MORRISON album "Roll With The Punches" on CD or 2LP… Some old R&B covers and some new self penned tunes also… Loads of Van stories always going around… Heard one during the week where it is said… Not by me now Van like (in case he comes after me and kicks the shite out of me)… It is said that when he played the Marquee here in Cork he said to the promoters that if there was any traffic delay en route to the venue he was turning around and coming back to the hotel… Traffic equals no gig… The gig went ahead, he must have got an escort or something.. Eh hem….. Any Van stories folks..?
We are going to, or the IT department (Bobby) is going to set up a Facebook group page for customers of the shop… Ye folks… Where we can all share muso stories, recommendations, trivia etc etc etc… We are going to be the administrators… I know nothing about Nosebook so i'll ask Bob tomorrow about it… Do ye need to send us ye'r nosebook addresses or what?
We tried a forum back a few years on the website but it was spammed to shite so this hopefully should work nicely… It's a private group with people of similar interests… We are in one with all the UK indie shops and I know the lads in Rollercoaster in Kilkenny have a very good one… New Malojian album coming via those boys soon I think… Looking forward to that.
*IT Department Here guys.. Have the Facebook group set up at the following link, I think you'll have to request to join but for anyone who's interested join away here! Whoever wants to start off the discussions, feel free to! We hope over the next few weeks to get this set up as a good spot for all types of music chat!*
https://www.facebook.com/groups/115929649078755/
Sorry anyway, new Van album out next Friday… Heard a couple… Sound alright…
UNI have new album by THE HORRORS as well as some WINTERFYLLETH reissues on CD and Coloured LP, and lastly from Uni is the 50th Anniversary remastered DLP/DCD of "Their Satanic Majesties Request" by THE ROLLING STONES… Limited i'm told, expensive too though.
Sony for the 22th have a JANIS IAN 'Essential' CD, and a reissue on CD/DVD and LP by SPANDAU BALLET of "Through The Barricade" .
Warner for the 22nd have the new BLACK COUNTRY COMMUNION album "BCCIV"… Supergroup featuring Joe Bonnamassa, Glen Hughes and Jason Bonham released via Mascot records on CD / Deluxe CD with two bonus tracks, and indies only orange flavoured vinyl…. Only kidding… Coloured… Not sure how it tastes to be honest…
Warner also have via Parlophone the next in the series of BOWIE's 40th anniversary 7" Picture Discs… "Heroes" is up next… Some of ye will hold off buying it I know until Saturday the 23rd, as that's the real anniversary 23/9/77… Don't worry lads, I understand ye… I might recreate 1977 for the day in the shop… Flares, medallions the whole deal..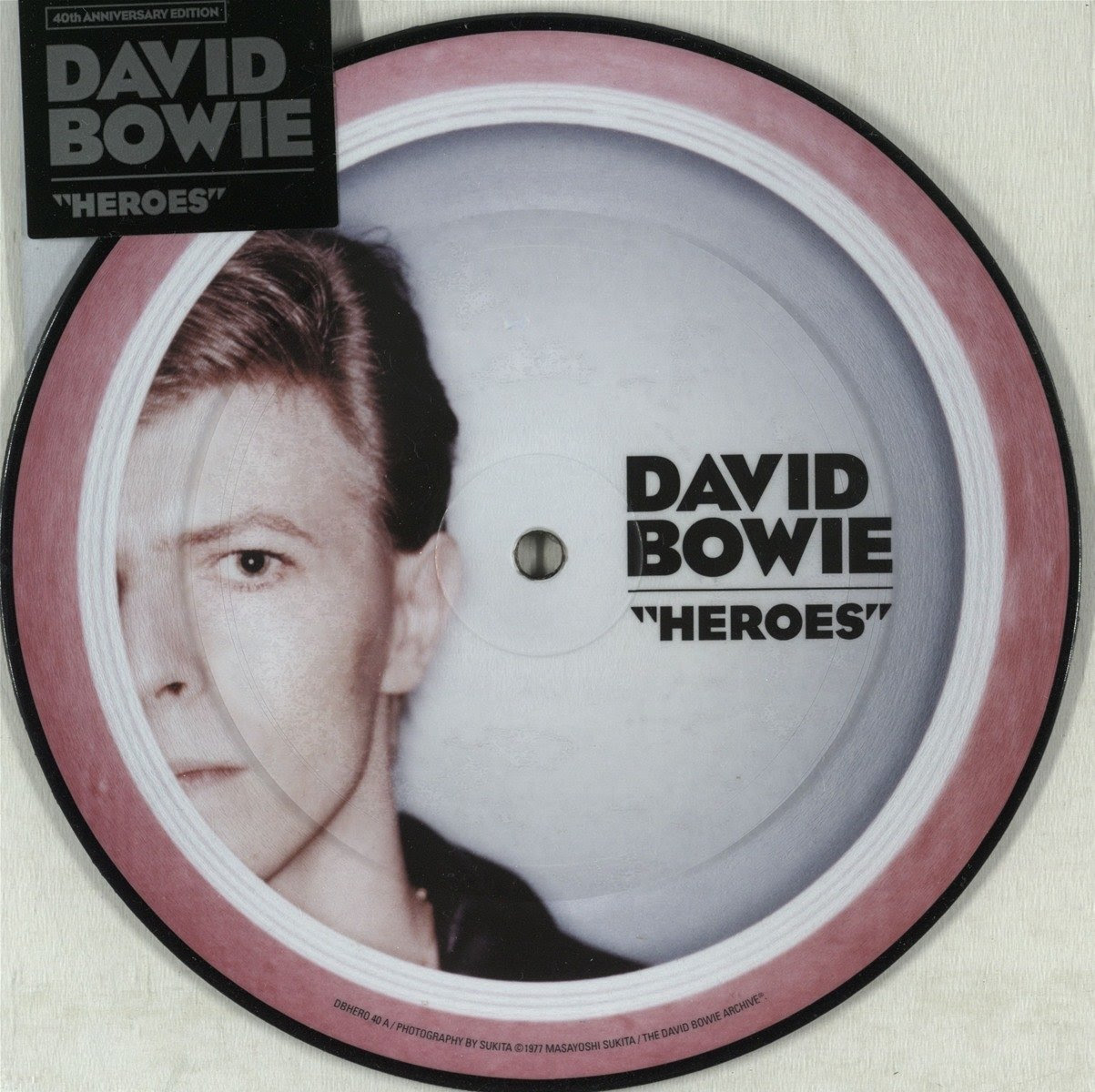 Warner also has new albums by MACKLEMORE and AMADOU & MARIAM as well as a BRIAN WILSON Anthology across his solo albums on 2CD or 2LP, KARL JENKINS " Adiemus, Songs of  Sanctuary" on blue vinyl, and lastly MASTODON have a new EP on CD of 4 new songs… Unusual enough thing for an established band to do in today's industry… An EP on a CD…
Myself and the eldest born went in to RYAN ADAMS at the weekend… I kinda had a few mixed feelings after it… It sounded brilliant.. Really brilliant… There wasn't a bum note the whole night…. Musically it was spot on…. I would run in tomorrow night to see him again, and the two hours flew by… All good so Raymond what's wrong with ya… But I felt a certain detachment from it or more so I felt he was detached somewhat from it…. Not too pushed about the 15 words of interaction during the night… That wouldn't really bother me even though I feel Cork crowds like to be loved!… We're like labradors..
I felt he was somewhat detached from the band and as the gig went on I felt from the crowd as well… Maybe t'was just me… Having said that I am humming tunes all week… No pleasing me i'd say… The Ryanites as well as the Bowieheads will be out for me now… The sooner we get that Nosebook private group up the better… We can have a bit of craic or at least I can… The admin person holds the key… Bit like sitting in Graham Norton's red chair for ye guys.
ROM have the new TRICKY kid album "Ununiform" it is called and I have been uninformed that it must all be in lower-case…
The Orchard have the new JOSH RITTER album on CD / Deluxe CD or a limited indies only yellow vinyl version… Orchard also have SATYRICON "Deep Calleth Upon Deep"
CARGO have a couple of beauts for the 22nd although i'm hearing the new HISS GOLDEN MESSENGER album could be moved back a bit… So it might be 22nd… But def the 22nd is the GODSPEED YOU BLACK EMPEROR new album on CD and indies only fancy LP… there is a 30th anniversary edition of "George Best" by THE WEDDING PRESENT as well.
PROPER have new albums by DEREK RYAN and PATRICK FEENEY.
PIAS for the 22nd of Sept have new albums by CRADLE OF FILTH, ENTER SHIKARI, METZ and a new 6 track EP by THE LEMON TWIGS… The 3 former ones are all forms of indie only coloured vinyl type thing although CRADLE maybe a picture disc… METZ are one of Toronto's finest…
Moving to Cork's finest we have a blast of stuff to mention on the local scene…
Firstly, one of Cork's finest young bands CROJAYN were in store Saturday tomorrow the 16th at 1PM launching their second EP… Really great upcoming young band… So from one of the finest young bands to one of the finest "old" bands…
THE SHAKER HYMN are back with a new track from an upcoming third album… These boys have all the talent in the world just need a bit of luck….I think they had a track from the second album used in the film "Handsome Devil" which they got a bit of traction from… Heres the new track… Ala Supergrass and The Beatles in parts… Fine tune again from the lads.
http://thethinair.net/2017/09/premiere-the-shaker-hymn-dead-trees/
We are involved in Culture Night which is Friday Week, the 22nd of Sept where we have live music in the shop from 4PM to 7PM… Here's a lowdown…
Up first we have Queensland, Australia boy-o PEPI MARA in to give us some folk tunes from his EP 'Leap', and he's on at 4PM.
Then second up at 5PM is Cork Indie / Lo-Fi rock group THE BURMA, who are promoting their second EP 'Her Eyes On Horizions'. The lads just launched the second single from this EP yesterday so check it out here, it's a cracker.
And finally.. Finally.. The Bob-Man is doing an in-store with his band SMALL DOSE… Well that's a lie.. Bob broke the news during the video that it will only be half of SMALL DOSE. A very small dose.. Joking aside himself and Sophie will be performing acoustic versions of their tracks for the first time live, and he assures me that it will be as cracking as ever.. Here's a little taster of an acoustic track, 'The Door', recorded a short while back
https://soundcloud.com/bobby-buckley-2/small-dose-the-door-acoustic
And just to convince ye to come in even more, another exclusive track, 'Ivy', for ye from the Coughlan's gig over the summer. Another track he assures will work acoustic. He hopes i'd say!
Bobby's SMALL DOSE lads are on at 6PM!
So thats Culture Night in Music Zone Next Friday 22nd September :
Pepi Mara 4PM-4:30PM
The Burma 5PM – 5:30PM
Small Dose 6PM – 6:30PM
So sin e for this week folks,
Thanks for listening
Ray
musiczone.ie