Hey everyone,
Hope all is well..
Music Zone will be 15 years old on Sunday (no need for champagne, or cakes, or chocolates, or anything for that matter..just glad to be alive!) It feels like only yesterday in some ways.. Bridget Jones was the big seller when the shop opened on Tuesday after the May bank holiday weekend… Nervous as a kitten I was… Standing like a rabbit caught in headlights when the first potential customer approached. Builder guy, breakfast roll wrapped up good and tight as they say.. 'Any AC/DC CD's?'.. Ah christ… Some of the Sony stock never landed in, including the AC/DC titles… 'No sorry… Should be in during the week, I can hold one for you?'… 'Nah, you're grand, i'll call another day…' Note to self and others… Always have some AC/DC titles… Anyway, excuse my meanderings into past lives…
One other quick note to self and others, no really big beasts in the sky back then, or files to download to your PC either… So more important note to self and others… These days (2016), have AC/DC titles in stock!
Releases for the shop for today, May 6th, include RYAN ADAMS, GREGORY PORTER, MICHAEL JACKSON, THE RIDES, 10'000 MANIACS, MOTLEY CRUE, JEAN MICHEL JARRE, and the new BEYONCE CD.
For all who prefer the visual, check out the new release video here :
Releases for May 13th include CORINNE BAILEY RAE's new album on Universal, the METALLICAvinyl boxsets (first two records), and the new DRAKE album also.
Warner for the 13th of May have a MORBID ANGEL LP reissue of 'Altars of Madness', THE BLIND BOYS OF ALABAMA Deluxe CD remaster of 'Spirit of the Century' on Omnivore and lastly, the big one from Warner next week is the new FOY VANCE album 'The Wild Swan', on CD and LP… Signed to Ed Sheeran's label where in fairness artists and bands are allowed to do as they please creatively (allegedly anyway).
PIAS for the 13th of May have new albums by EAGULLS 'Ullages' on CD, LP and also on initial order only coloured LP for Indies like me… EAGULLS have been mentioned by some sectors in the same sentences as THE CURE and THE COCTEAU TWINS… No pressure there lads… Just two of the greatest bands ever is all…
New metal albums on Nuclear Blast for next week by GRAND MAGUS and also by HATEBREED.
PIAS also have NEW ORDERS 'Music Complete' on deluxe CD, which (and please ignore me with my affection for cheap silly gags), doesn't seem that complete at all, there having been so many versions of it already.. (Sorry, can't help myself)…
PIAS have a debut, a hotly anticipated debut record by OSCAR, also WOLF PARADE, 'Apologies to the Queen Mary' on triple LP (coloured only for the indies..), or cassette tape… Appearing more and more on sell in sheets from the record companies to me… Never… Surely… Never.. I for one like the format… 18 year old Fiestie that passed the NCT last week only allows cassettes to be played in it… It only allows certain other things also, like who it lets into it and who can start her… You and I both know that next week the Fiestie could be in the bin, but like Danny Healy Rae sure we'll keep going for as long as we can get away with it.. There's nothing in that whole climate change crap i'd say… Or drink driving either for that matter…
Was tempted in starting a tiny cassette corner in the shop just for Sean O' Rourke and the likes who like rewinding the tape with their biro… Therapeutic I think he said… Cassettes anyone?.. Cassettes… Bueller…. Bueller…
Sorry, lastly this time from PIAS are some Domino LP releases from the likes of THE FALL,PAVEMENT, CASS MCCOMBS and FOUR TET.
The latest catch phrase in the shop, for a while now really, which has toppled the 'do you sell iTunes cards here?' chart topper, is definitely, 'jays, the records are back hah!'… 'They are…' 'Crikey, i've loads of them up the attic, the must be worth a fortune'. Well, the follow up line can vary to a number of different roads or tangents (I do know a bit about tangents, note to self, ease off the tangents…), but the opening line is heard 40 times a week in the shop over the last few months, easily hitting Itunes off it's perch… 'Jays the records are back huh?'… The records are back.
Sony for the 13th of May have a new album by KYGO and a few gems of reissues on vinyl bySANTANA including 'Abraxas' and the self titled record.
Essential for next week have the Armin Van Buuren, 'State of Trance 2016' on 2CD.
Music on Vinyl upcoming releases include MILES DAVIS Double Live LP 'Dark Magus' and IGGY POP's fourth solo album 'Soldier', IAN BROWN 'Golden Greats', BOB DYLAN's 'World Gone Wrong', and the brilliant DANCES WITH WOLVES soundtrack by JOHN BARRY and some SOFT MACHINE reissues.
Republic of Music have the 20th anniversary of the MOBB DEEP classic 'The Infamous' on double coloured vinyl (one blue and one orange) for next week.
New CHILI PEPPERS album announced for June as I am sure you are aware.
I noticed a load of people holding the new BOWIE record sleeve up to the sun or the heavens today.. Is there some sort of mass cult effort like a Ouija Board type of thing to contact the great man? Or is that the star transforms into a galaxy of shining stars when sunlight hits it (no wonder it took nearly 4 months to be discovered).. Note to self….. Stop trying to tell the Bowie heads stuff they obviously already know… I am right in thinking the notes to self do come from the Bridget Jones film? Soundtrack came out in May 2001?… Note to self…. Check your research….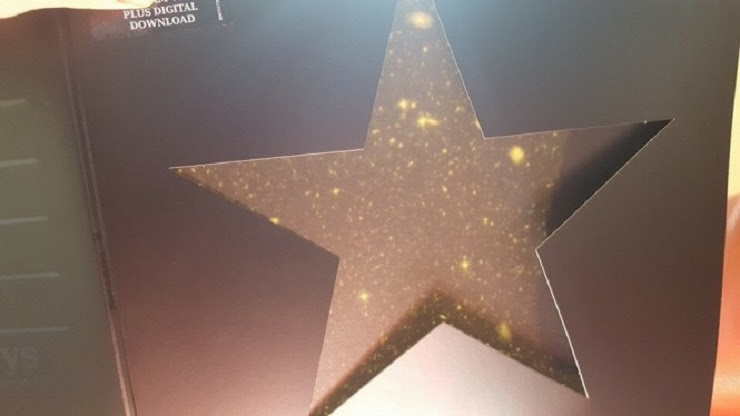 I'm sure you won't be sorry to read that's that…
Sin é for tonight..
Check out the website for all the comings and goings,
Thanks for listening,
Ray